Frequently Asked Questions
How much does delivery cost?
Home delivery costs £4.99 for orders.
If your school offers a weekly delivery, this will also be free of charge.
How long does a delivery normally take for an online order?
If all of your items are in stock it can take up to 14 working days for delivery however global supply constraints and national labour shortages mean that some items are experiencing longer lead times. If you have placed an order that has an out of stock item we will dispatch your order 14 working days once the item(s) have arrived back into stock.
Does my delivery to home need to be signed for?
Yes, however, we are able to leave the parcel with a neighbour or in a safe place.
When I select 'Deliver to School', where do I collect my order?
Deliveries are usually made to the school's main office, your parcel will be labelled with your student's name. For more information please contact your Schools main reception.
Do you offer an exchange service?
Web/Phone Orders - We do not offer an exchange service for orders being returned by post. All returned items will be refunded via the original payment method and you will need to place a new order.
In-Store Orders - We do offer an exchange service if purchased in-store and returned back to store.
If the garments do not fit, can I return them?
Yes, we offer a 28 day Returns Policy, however we have an extended returns period for any purchases from 31st May 2021 can be returned on or before 11th September 2021. Items which are not in their original packaging or have any tags removed will not be eligible for a refund.
How do I return my order placed online for a refund?
Please include your returns form in your parcel and go to the Royal Mail link to print off a free tracked returns label. This can also be printed at the Post Office. Once we have received your parcel, you will receive a confirmation email.
How long does it take to process my refund?
Please allow 2 working days for the parcel to reach us and a further 14 working days (depending on the time of year) to process your return and refund.
How do I return my order placed in-store for a refund or exchange?
Please visit our store during the opening hours and they will issue your refund or exchange.
Can my child's School return the items for me?
No, it's the parents/guardian's responsibility to return the items.
What should I send the items back in?
Please use the same packaging you received the items in. If this isn't possible please ensure the items are packaged in a secure bag and the pre-paid sticker covers your address label to avoid the parcel being returned back to you.
We recommend checking your child's measurements before buying, using our top tips to ensure the best fit. To get the most accurate measurements, where possible measure over the undergarments most likely to be worn, rather than over outer clothing.
Please Note: All of the sizes of our garments are given in inches.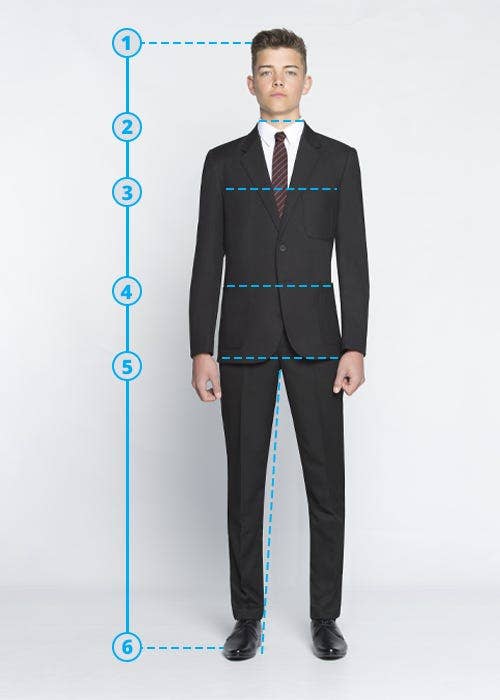 Height: This is best done barefoot, with feet together flat on the ground and back against a wall; measure from the top of the head to the ground.


Neck: Place the tape measure where the shirt collar would normally sit around the base of the neck. Leaving a little extra room is very important so that the collar is comfortable, so make sure not to pull too tightly.


Chest: Take the tape measure through the underarms, around the fullest part of the chest.


Waist: Measure the natural waistline, not pulling too tightly to ensure comfort.


Hips: Standing straight with the heels together, take the tape measure around the fullest part of the bottom.


Inside leg: This time shoes on; measure from the inside leg to where the trouser is normally worn on the shoe. If you're unsure, trousers should sit approximately 5cm from the ground.
Our 'Click and Collect' Service is currently unavailable.
How to book an appointment

Select which school your child will be attending
Select from our list of stores that supply your school
Choose a day and time that suits you, follow the booking steps
Provide your details, this helps us make sure your appointment is quick and easy
Once confirmed please print your confirmation
You will get an email confirmation, please save the email if you need to cancel/change your appointment
You can book an In-store appointment here >
Attending your appointment
One parent, one child per appointment where possible
Wearing a face mask is required unless you have a medical exemption
Arrive 5 minutes before start time
On arriving, check-in with our concierge at the front door
Use hand sanitiser, available on entry and exit
One of our experienced team will guide you through your school's uniform needs and help you get the right sizes
How do I change my password?
Go to the My Account page and click the "Change Password" link. Type in your current password, enter a new password and confirm the new password, then click the "Save" button.
How do I change my email address?
Go to the My Account page and click the "Edit" link. Select "Change Email", type in the new Email Address and your current password, then click the "Save" button.
Can my account have multiple children?
Yes - if you did not add more than one student when creating your account, you can do so on the "Managing Students" page via the "My Account" page. There is a limit of 10 students per account.
One of my students has finished school. How do I remove a student from my account?
You can remove students from your account on the "Managing Students" page via the "My Account" page. Find the student you want to be removed from your account and move them over to the "Graduated Students" section.
Can I change the school my student is assigned to?
Yes - you can edit the school a student is assigned to on the "Managing Students" page via the "My Account" page. Find the student you would like to edit and click the pencil icon.


Can I order for more than one student in the same purchase?
Yes - you can order for as many students as you like within the same purchase.
My students go to different schools. Can I purchase from both schools in the same order?
You can order for students from different schools at the same time. The only difference is the order will no longer be able to be Delivered to School.
If the account is set up in my student's name, will my credit/debit card still be processed?
Yes, the name on the account does not need to match the name of the person making the payment.